Jesus Revolution-Part Two
About this show
Creator:
Pastor Richard D. Dover
Location:
Locally Produced
Rating:
Parental guidance suggested - PG13/TV-14
Scheduled airings
This show has not aired nor is scheduled to air in the future.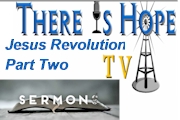 Jesus Revolution
Part Two
Pastor Richard D. Dover
Seattle Open Door Church
What is happening in the American Church, what is happening in America, what is happening in the world, we need a Jesus Revolution. We need the move of God.
Pastor Rich shares about Jesus currently working among the Bhutanese/Nepalese in Nepal, and shares about the Jesus Movement in the 70's. In Part Two of the message Pastor Rich is going to address some of the issues in the American Church and why we need a Jesus Revolution among the Body of Christ.
The word revolution sounds like we are talking about going to war, about turning things upside down, about violence. The revolution Pastor Rich is taking about is a change of heart and behavior within the Body of Christ. There needs to be a drastic change in the Body of Christ if we are going to influence America and the world in a positive manner.
This Series-Jesus Revolution is a preparation to a series that Pastor Rich did on the topic of love. He talks about What Love Is, What Love is Not, The Love of the Father, How the Love of God will transform you. That then leads into his series titled Ambassadors for Christ and God's Workmanship. Which will lead into his series titled Spiritual Warfare.
Member Login
Welcome!
Hey viewers and producers! Be sure to register.

Don't confuse registration with membership!

Registration will allow you to vote for shows and leave comments on the website. You still need to become an SCM member to produce shows.

How to Use the New Site