Love Series-Love of the Father, Part Two
About this show
Creator:
Pastor Richard D. Dover
Rating:
General audiences - PG/TV-G
Scheduled airings
This show has not aired nor is scheduled to air in the future.
This video has been processing for 24 hours.
Note to the producer of this show: Do not resubmit this episode page again!!
If your video has still not returned by the end of the next business day (Monday through Friday), it has likely encountered an error. Do not call, but rather, please e-mail help@seattlecommunitymedia.org so that an administrator may look into the potential issue(s) concerning your video. Note that the failure of most video processing is rooted in the failure to follow the directions on the submission page. Should you choose to resubmit, you MUST change the filename of the video you are submitting or else it will absolutely fail again.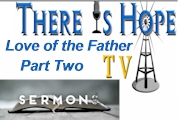 Love Series
Love of the Father, Part Two
Pastor Richard D. Dover
Seattle Open Door Church
This is the Introduction to the Love Sermon Series. In this series Pastor Rich will be talking about What is Love, What Love is Not, The Love of the Father, Being Ambassadors for Christ.
Love of the Father
Father God loves us so much he sent His son to die for everything single human being regardless of race, skin color, age, sex, national origin, socioeconomic level, sin makeup
In 2 Corinthians 5:14-21 there is a theme in regards to love. In 2 Cor 5:14-15 Apostle Paul says the love of Christ controls (impels, drives, compels) us to no longer live for ourselves. In 2 Cor 5:17 states that because of the love of Christ and us receiving the love of Christ, we become new creations in Christ Jesus. In 2 Cor 5:18-19 Apostle Paul states that because we have become new creations and are born again, God has given us the gift of reconciling others to Christ. In 2 Cor 5:20 we have become Ambassadors for Christ.
So everything you see about God's love is about us being changed and reaching out to others so they can change. We become God's Workmanship. God's love is not about continuing in ongoing, willful, rebellious, sin.
Seattle Open Door Church
625 SW 149th St
Burien, WA 98166
www.sodc.tv
Give Pastor Rich a call at 1-866-WANTGOD
Member Login
Welcome!
Hey viewers and producers! Be sure to register.

Don't confuse registration with membership!

Registration will allow you to vote for shows and leave comments on the website. You still need to become an SCM member to produce shows.

How to Use the New Site