Solution for America-Part One
About this show
Creator:
Pastor Richard D. Dover
Location:
Locally Produced
Rating:
General audiences - PG/TV-G
Scheduled airings
| | |
| --- | --- |
| Sun Feb 28, 2016 | 7:30 am |
| Sun Mar 6, 2016 | 7:30 am |
| Sun Mar 6, 2016 | 8:00 pm |
| Wed Mar 9, 2016 | 5:28 pm |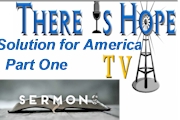 Solution for America
Part One
Pastor Richard D. Dover
Seattle Open Door Church
In the previous episode titled Solution for America-Introduction, Pastor Rich discussed that the solution for all that is taking place in America is not The Elephant or the Donkey. The solution is not politics. The solution is Jesus Christ. In this message Pastor Rich shares what Biblical principles should be implemented by Christians for the sake of America and the American Church:
What Should American Christians Do?
Not Do Anything
Repent
Vote
Pray
Weep! Be in Anguish!
Speak Out
Walk in Holiness
Pray for Revival
In Part Two he will be sharing more on What American Christians Should as the solution for America in Distress.
Member Login
Welcome!
Hey viewers and producers! Be sure to register.

Don't confuse registration with membership!

Registration will allow you to vote for shows and leave comments on the website. You still need to become an SCM member to produce shows.

How to Use the New Site